EVENT内容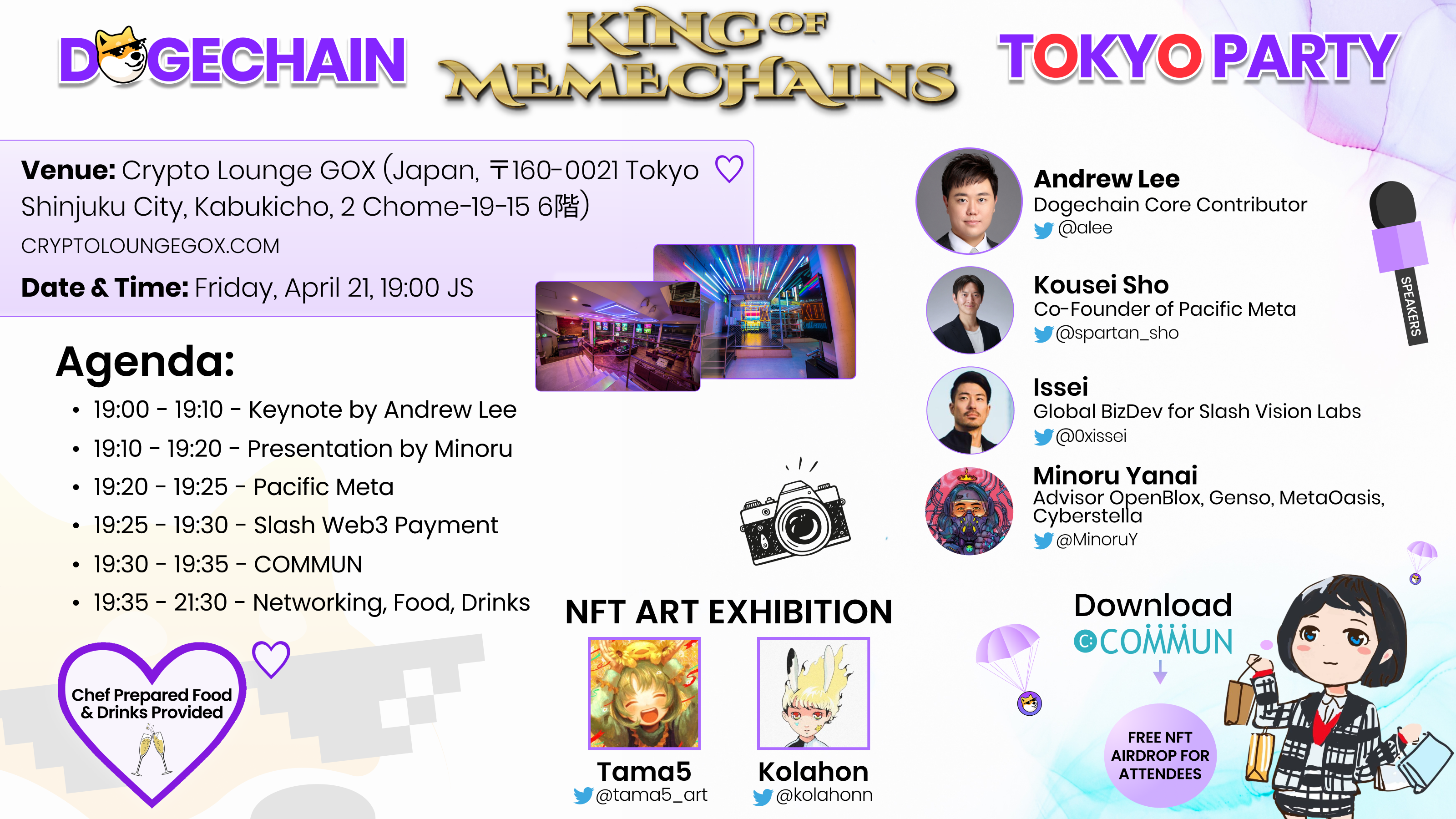 ミームチェーンの王「DogeChain」東京パーティ
2023年4月21日(金) 19:00~22:00 ⋆18:00入場可
【日時】
2023年4月21日(金) 19:00~22:00

【開催場所】
Crypto Lounge GOX
東京都新宿区歌舞伎町2-19-16 てなむタウンビル6F
【内容】
English follows Japanese.
ワンワン!Dogechainをご存知でしょうか?DogechainはPolygon Supernetのチェーンで、暗号資産の中で最もはっちゃけたミームのためのものです。ミームの未来はみなさんの手にかかっています!
Dogechainのコアチームや友人たちと共に交流する一夜を過ごしませんか?以下のようなエキサイティングなスピーカーが参加します。
また、tama5(@tama5_art)、kolahon(@kolahonn)など、才能あるNFTアーティストに作品を展示します。
会場では、食べ物やお酒が提供されるほか、swag.dogechain.dogのスワッグが配布されます。
また、参加者全員に、今後発売される未発表のNFTコレクションセット "ミームガールズ" の特別エアドロップがプレゼントされる予定です。
Polygonで最も人気のあるSupernetであるDogechainについてもっと知り、新しい友達を作りませんか?暗号資産が初めての方も、上級のアルトコイントレーダーの方も、どなたでも大歓迎します!
Dogechainについてのより詳しくは:Web | Twitter | CoinGecko
イベントの問い合わせ先:@TokenEconomist @road_to_neet
Woof woof! Have you heard of Dogechain? Dogechain is a Polygon Supernet chain for all of the dankest memes of all of crypto. The future of memes is in your hands!
Join us for a night of networking and partying with the Dogechain core team and friends! We have a number of exciting speakers joining us, including:
Also, we're so honored to have a few talented NFT artist exhibit their work, including tama5 (@tama5_art) and kolahon (@kolahonn).
Food and alcoholic drinks will be provided! Also, free swag from swag.dogechain.dog will be given at the event.
All attendees will also get a special airdrop for an unreleased NFT collection set that will be launching in the future called "Meme Girls."
Come learn more about Dogechain, the most popular Supernet for Polygon, and make new friends! Everyone is welcome, whether you are new to crypto or you're a Level 10 alt coin trader!
More about Dogechain: Web | Twitter | CoinGecko
Contact: @TokenEconomist @road_to_neet
【イベント詳細&申込】
https://www.meetup.com/web3tokyo/events/292331630/